Mar 18, 2020
Coronavirus update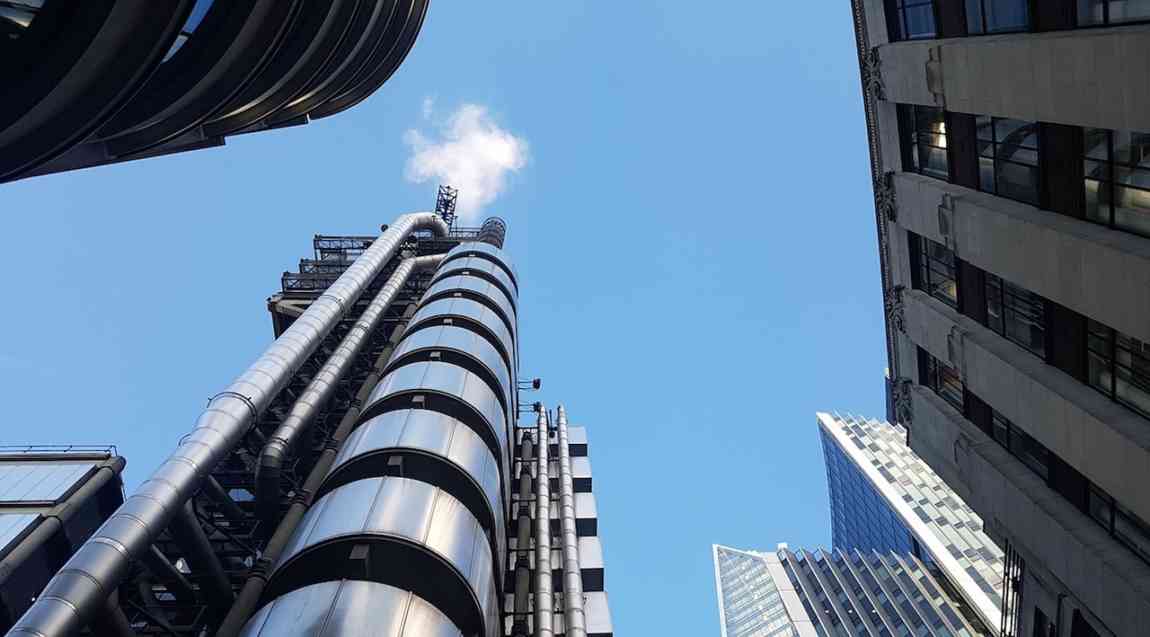 Since our article on the Hampden website (February 11th) published in the midst of China's dramatically rising infections, the virus has been classified as a pandemic by the World Health Organisation ("WHO") as other countries also report a rising number of infections and consequently a range of preventative measures.
The expected economic impact and fears of a global recession has led to tumbling stock markets (exacerbated by the oil war within OPEC) and bond yields which have fallen further into negative territory.
Whilst the various securities markets and bond markets tell their separate pictures of the expected global economic impact, and are hitting values hard, in the (re)insurance market it is too early to provide an estimate and there is considerable uncertainty. However, the industry concensus is that the "protection gap" for a pandemic is sizeable; global broker Guy Carpenter reports that in relation to SARS (2002/3) insurance claims "didn't approach a significant fraction of its global economic impact of over US$40bn."
AM Best in a recent commentary states that there may be "pockets of claims in specialised lines of business…which could very quickly lead to hardening markets in these areas. However, based on current analysis, that is the extent to which AM Best expects Coronavirus to have an impact".
Obviously Lloyd's and the syndicates supported by Hampden Members will be trying to get a grip on what the potential exposure is and Lloyd's has requested each managing agent to provide its understanding of the potential losses and exposures. This is a rapidly evolving scenario.
We can say at this time that the main classes of business with potential exposure to losses are:
Event cancellation/contingency: this is a relatively small part of Lloyd's income and Members' portfolios and should not have a material impact. Hannover Re has stated that it might have €200m/US$225m of exposure to potential coronavirus losses from event cancellation and contingent business interruption. Munich Re has opined with €500m and Swiss Re has said "The mid- and long-term impact will, of course, depend on the level and duration of the economic downturn. But at this stage, from a pure reinsurance standpoint, I would say that situation remains manageable." Should the Tokyo Olympics be cancelled then the policy limits of around US$2bn for the IOC and broadcasters will probably be "totalled" but this will be spread around the global insurance firms. However, we understand that the largest losses will be largely avoided in relation to advertising and broadcasting rights if the Olympics are held without the presence of spectators as with the recent Tokyo Marathon.
Business interruption: in the case of property policies, business interruption ("BI") is not normally granted for causes such as Coronavirus unless there is property damage although depending upon jurisdiction there is the potential for decontamination to be considered as physical damage. There is an additional type of BI cover called Contingent Business Interruption ("CBI") which is bought by some larger manufacturers to cover them for the loss of revenue should their supply chain be disrupted by events beyond their own premises. Usually CBI has a separate limit requiring the underlying cause of damage to the supplier to be of a type covered under the business's own property insurance. We saw some claims from the Thai floods in 2011 when Japanese manufacturers could not get parts, but this was not a major issue for our supported syndicates.
Long-tail liability lines such as General Liability, E&O, D&O, EL and PL may be exposed in relation to claims from customers/shareholders and employees due to the risk of being sued for inadequate health and safety procedures. They will therefore be paying close attention to Government advice and the various health organisations around the world to protect them. Lastly, we do see some potential exposure to securities class actions in the public company D&O market as share prices fall and shareholders argue that company announcements or management actions were inadequate. We will not know for some time if these classes do become embroiled by Coronavirus claims.
Other potential lines in the near term which will be affected are Accident & Health, travel insurance, and marine liability in relation to cruise ships, and as supply lines become disrupted there may be contract frustration claims in relation to trade credit.
Two further possible consequences of the falling markets and reduced interest rates, are firstly the impact on investment returns which may particularly effect some firms' balance sheet strength and secondly, there will be some impact on premium income due to reduced economic activity, although this may be mitigated by further rate rises. This will be making trading conditions even tougher for some and will accentuate the need for sustained correction to underwriting standards and pricing. 17 March
Update:
Yesterday, 17 March, after the Chancellor's announcement of a £330bn package of Government backed loans aimed at supporting businesses impacted by Coronavirus and the Prime Minister's advice not to visit various venues, the Association of Business Insurers, issued a statement (reproduced below) which explains UK insurers' position: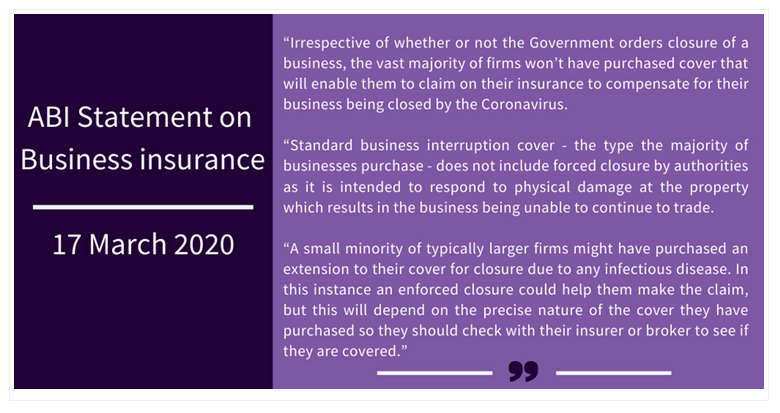 So, according to the ABI many firms will likely not be able to call on their business interruption cover as a result of the Coronavirus outbreak.
Clearly, the insurance cover aspect of Coronavirus is going to be uncertain for some time and therefore the quantum of claims. The economic damage seems to dwarf the insured cost as far as we can tell, similar to SARS.

We will do our best to keep clients informed on any important developments at Lloyd's.